Machine for joining the corners of the frames cut at 45° + 45° of the ventilation grids
Join 165.2 Auto is an automatic machine for the 90 ° junction of aluminum profiles by inserting metal brackets like the one in the figure.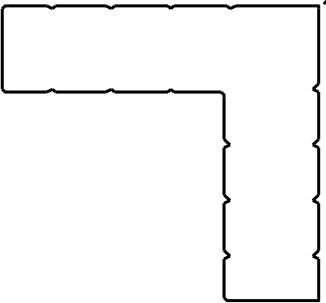 Join 165.2
Features:
a –  A workbench equipped with a 90° square against which the aluminum profiles to be joined will be positioned. The square is interchangeable according to the design of the profile to be machined.
b – a punch for positioning and fixing the bracket to the profiles through deformation of the flaps.
d –  an industrial vibrator whose container is covered with a ø 400 mm anti-noise material, it is equipped with an electric device to regulate the vibrations. It can provide a feed rate of 30 pcs / min, the vibrator can hold up to 2000 pcs.
e – a pneumatically driven device, equipped with an electromagnet, lifts the bracket from the vibrator channel and it deposits it inside the groove of the profiles to be joined.
f –  a pneumatic cylinder D. 125 mm provides for the union of the pieces, exerting on the punch the necessary push to deform the flaps around the square.
g –   a pedal to start the work cycle
h – a electrical panel with plc and a 5.7 "touch screen operator panel which it allows you to easily set up all the operating parameters, the manual control of the outputs, the inputs check, the start / stop and automatic operation.
i –   a polycarbonate screen to protect the operator from the dangerous areas of the machine.
The operation of Join 165.2 is very simple, just place the two profiles to be joined against the square and press the foot control; the machine will perform the following operations in sequence: pick up a bracket from the vibrator channel, position it in the groove of the profiles to be joined, lower the punch to deform the flaps and reopen it to allow the pieces to be extracted joined at 90 °. During the return phase to the rest position, another bracket will be in position for the next junction. The time / cycle is about 3 sec.
TECHNICAL SPECIFICATIONS:
Weight:                                                     180 kg
Dimensions:                                            length 600mm, height 1250 mm, width 1000 mm
Pneumatic Supply:                                6 bar pressure; consumption: around 12 nl / cycle
Size of the pieces to work:                   Thin-walled aluminum profiles
Hourly production:                                depending on the length of the pieces, for frames with dimensions L = 200 x 300 mm. about 300 pcs per hour
Contact us for further informations!